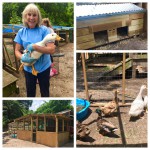 So many people would love to volunteer in the Stables, and the Stables at Poplar Grove appreciates any help you can provide, working directly or indirectly with the farm animals. However, volunteering in the Stables is physically demanding and very much a dirty, dusty, sandy job.
As the children's book attests: "Everybody Poops!" and volunteers in the Stables by and large scoop a lot of poop!  On average, one horse poops an average of 40 lbs a day, and we have four full grown rescue horses, not including a pony and donkey, and that's a lot of poop!  So much so that we give our poop away for free in a special compost pile at the back corner of the pasture, so gardeners, take note.
No doubt, the rewards that accompany such hard work is mostly expressed by the farm animals, who daily show their appreciation. If you are still interested in this "hand's-on" opportunity and willing to form long-lasting and nurturing relationships with this group of farm animals, click here Volunteer Form 2021 to review and fill out an application. Please note, if you are committed to volunteering in the Stables and have been vetted and approved, the stables manager will require you to fill out the Volunteer Addendum for the Stables and have it notarized.
Contact Betha Knight, the Stables Manager, by emailing thestablesPG@gmail.com, or request an appointment with Betha to drop off the forms.
Unfortunately, we cannot in good conscience accept volunteers under the age of 18. Review the Volunteer Addendum for the Stables to understand why. For our younger guests and their parents interested in viewing the animals regularly, consider a family membership to Poplar Grove so you can visit the animals at any time during our seasonal hours of operation.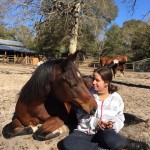 Visit our Facebook page for the latest information, and thank you for your interest and support!