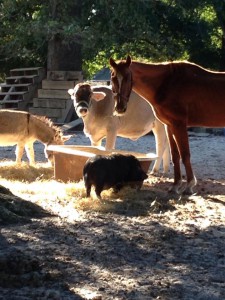 The Stables at Poplar Grove is home to a variety of farm animals reflective of the 19th century, including sheep, goats, pigs, hens, roosters, ducks, turkeys, horses, donkeys and ponies.  The wool from sheep as well as fur from other animals, such as rabbits, was used to create fabrics for necessities like clothes and blankets. Weaving Exhibit.  Hens produced eggs that were a staple to the large Foy family household and its tenant farming families.
Swine were a major source of income for the Foys, and late in the Civil War, Mary Ann Simmons Foy petitioned Jefferson Davis to exempt her second son, 18 year-old Joseph Thompson Foy, from serving in exchange for feeding his Confederate troops with pork.
After harvest, the pigs were turned loose on the peanut fields to turn over the soil and fatten themselves on the dropped "goobers," in time for holiday celebrations such as Thanksgiving and Christmas, but most especially for a large family barbecue on New Year's Day.
Jersey cows once roamed the acreage surrounding the Manor House, and chickens and pigs populated the back yard behind the kitchen shed and herb cellar. Free roaming chicken eggs from our hens are available at the Farmers' Market on Wednesday and at the stables.
Group tours of the Stables for 10 or more guests, may be arranged by calling 910-686-9518, ext. 103.
Rescue, Rehabilitation, and Education
The Stables at Poplar Grove is also humbled to be a foster site for neglected and abused equines. We work diligently with law enforcement and rescue organizations to ensure the safety of our four-legged friends!
Our Equine Rescue Program was established to rescue, rehabilitate and protect the quality of life and well-being of abused, neglected or unwanted equines (horses, donkeys, ponies).  
We offer care and a peaceful home to all of our farm animals so that they may live in a safe, free-roaming well-maintained environment.