June 24, 2020
A vast amount of public research has been conducted to trace the family units of the enslaved men, women and children so named and listed in the 1859 Inventory of Estate of Joseph Mumford Foy, and their lives are rich with history and documentation.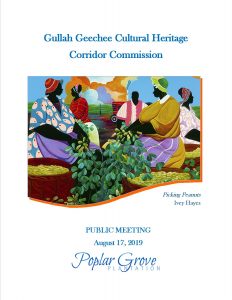 The culmination of this public research is based upon an oral interview with Nora Foy Brown in 1979 which led to a presentation by Caroline C. Lewis, Executive Director of Poplar Grove Foundation, Inc., to the Gullah Geechee Cultural Heritage Commission's Public Meeting of August 17, 2019, held at Poplar Grove,  Wilmington, Pender County, North Carolina.
The presentation, Intimacy of Oppression Presentation, seeks to provide a context for the purposes of preserving such an historic site, especially as we seek to challenge the tropes of "other" when we thoughtfully and carefully consider other as the history of us, as black and white Wilmingtonians, as black and white North Carolinians, as black and white Southerners, and this part of the lower and upper Cape Fear River as the living embodiment of the Gullah Geechee culture that has been too long invisible. 
We do not forget that there are other vibrant cultures that have had just as a significant and contributing impact upon this area, especially as it relates to the history of Southern culture, who are all an integral part of our our community and its history – the Waccamaws, the Cape Fear, Lumbee and Tuscaroras tribes as well as the Cherokees and other Native tribes. Latin Americans have lived and worked here for generations, descended from South America, Mexico, Central America, and the islands of the Caribbean.
And thus the collective voices of our community must rise to become Indivisible rather than Invisible. 
The Foy family not only benefited but highly profited from the care, skills, talents, artistry and intellect of approximately sixteen enslaved families. Therefore, this historic site seeks to amplify the histories of these Black families who lived and worked at Poplar Grove and contributed their lives and their children's lives to the settlement, development, culture and history of Wilmington, North Carolina. 
Poplar Grove Foundation, Inc. seeks to make visible as much public information as possible regarding these individuals, even while such information is not yet connected or part of a larger cohesive narrative other than communicating that a few patterns have emerged that can document Black family ties through successive generations in this particular area of the Gullah Geechee Corridor, in Pender County, North Carolina. This historic site is attempting to collect while also opening up its collection of documentation – through six generations of last wills and testaments, marriage, birth and death certificates, US Census records, US Slave Schedules as well as from the New Hanover County Deeds office and from New Hanover County Cohabitation records, etc.
For a broad overview of public records in North Carolina, visit NC State Archives Slave Records.
From the recorded interview of one, Nora Foy Brown, this site can now make available all the documentation we have collected thus far in an effort to create an ever-evolving, truthful, honest narrative of that research as it relates to the families of Scotts Hill, Pender County, North Carolina, where peanuts, sweet potatoes, blueberries, and melons grew, whose young Black men served in WWI and WWII, whose mothers cooked for the soldiers at Camp Davis, and whose Black sons would purchase beach homes at Ocean City, Topsail Island, where their fathers had fished for generations, between ocean and sound, sound and ocean.
We have a history together. Let's learn it together. Caroline Lewis, Executive Director, Poplar Grove Foundation, Inc.
The uploading of this research is a continual process.
Please keep checking our website for new information.