Cohabitation Records, 1866-1868
"Prior to 1865, slaves in North Carolina were not legally permitted to marry, although many of them lived together as husband and wife. Following the end of the Civil War, the North Carolina General Assembly enacted legislation on March 10, 1866, which ordered former slaves to have their marriages recorded. Originally, the matrimony was to be registered before September 1, 1866, but in 1867 the deadline was extended to January 1, 1868. A twenty-five cent fee was paid in order for the marriage to be recorded.
Approximately 20,000 records of cohabitation have survived from fifty-two counties. The number ranges from three records in Mitchell County to about 1,900 in Craven County. They show the name of the man, the name of the woman, and the length of time they had lived together as husband and wife prior to 1866. The record also indicates before whom the statement was made. Cohabitation records usually are not indexed, and many of them were entered in random order in record books. In a few counties, however, they were filed on individual forms which are arranged alphabetically by name of man.
Cohabitation records have survived from the following counties: Alexander, Alleghany, Beaufort, Bertie, *Caldwell, *Camden, Carteret*Catawba, Chowan, *Columbus, *Craven, Currituck, Davidson, *Davie,*Duplin, Edgecombe, *Forsyth, Franklin, Gates, Granville, Guilford, Halifax, Hyde, Iredell, Johnston, Lincoln, *Mecklenburg, Mitchell, Nash, New Hanover, Orange, Pasquotank, Perquimans, Person, Pitt, Richmond, Robeson, *Rowan, Stokes, Surry, Union, Wake, *Warren, Washington, Wayne, Wilkes, Wilson. Records of counties marked with an asterisk (*) are on microfilm, the originals remain in the county."
STATE OF NORTH CAROLINA
DEPARTMENT OF CULTURAL RESOURCES
OFFICE OF ARCHIVES AND HISTORY
ARCHIVES INFORMATION CIRCULAR
Number 17 1980 TWM (Revised 2002 ELI) Raleigh, North Carolina
NC State Archives Slave Records
*New Hanover County Cohabitation Records
1825-1865
Transcription of Cohabitation Records New Hanover County 1825_1865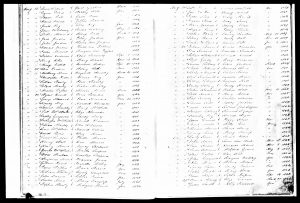 *In 1875, Pender County was established by splitting off the northern part of New Hanover County along Foy Creek, which had the largest population of black male suffrage