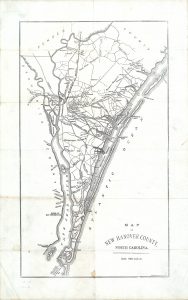 The Revolutionary War is over, and Cornelius Harnett's widow sells off tracts of the family estate known as Poplar Grove…
In 1795, James Foy, Jr., son of Captain James Foy, Sr. of Onslow County, who also served with Colonel Henry Rhodes at Moore's Creek Battlefield, has just purchased 628 acres of land from Francis Clayton, who had purchased the land in 1784 from the recently widowed, Mary Harnett, wife of Cornelius Harnett. The acreage is located on Topsail Sound in New Hanover County, including the northern banks of Figure Eight Island.
James Foy, Jr., newly married to Henrietta Rhodes of Onslow County, and daughter of Colonel Henry Rhodes, occupied this second home of Cornelius Harnett, whom he referred in letters and diaries, as Poplar Grove. The home's location, close to the sound, allowed the couple's enslaved to more easily transport goods via boats and water barges to the port of Wilmington, since the arduous trip by road took about twelve hours round trip.
Ownership passed to James Foy, Jr.'s son, Joseph Mumford Foy, in 1838. When a fire destroyed the original homestead, Joseph M. Foy selected this current location because of its proximity to the Old New Bern Road. Construction began circa 1850. The Manor House is modeled after period plantation homes along the Gullah Geechee Corridor, a then popular Greek-Revival Style, mixing earlier Federal Style flourishes, such as the McLeod Plantation of Charleston, SC. 
Belonging to a larger planter class in the community of Scotts Hill and Wilmington, Joseph Mumford Foy's estate lists fifty-nine enslaved peoples in 1859, a number of whom would have made a significant contribution to the building of the current manor house.
The home is 4,284 square feet, with three floors of equal size, each with four principle rooms on the second and third floors, a fully functioning lower level that served as a summer dining hall and additional sleeping quarters, twelve fireplaces, two pairs of corbelled interior chimneys, and a double piazza that runs the extension of the home.
Although rice plantations along the Cape Fear River brought economic prosperity, and everywhere within the region thousands of farmers owed their livelihoods to the 'golden leaf,' tobacco, the Foy family owed its financial success to the agricultural skills of their enslaved who planted and harvested the peanut to sustain the diets of the enslaved of nearby plantations and for points south, west and as far north as New York City.
Joseph Mumford Foy is credited with pioneering peanut production in antebellum coastal North Carolina; however, his skills were in management rather than production – peanuts were considered a "slave food" and their cultivation was the genius of the Foy's enslaved as well as the enslaved of nearby Porters Neck Plantation. Planter and enslaver, Nicholas Nixon, and his enslaved invented a steam-powered thresher, making the peanut crop more profitable for area planters. Both Foy and Nixon wrote numerous articles on scientific farming and peanut cultivation.
'… goodness how delicious, … eatin' goober peas …'
Just a few minutes north of Wilmington, North Carolina, Poplar Grove was a self-sustaining plantation, including a sawmill, brickyard, grist mill, salt works, turpentine still, a blacksmith's forge and skilled artisans that included enslaved carpenters, coopers, wheelwrights, saddlers, plowmen, stable hands, blacksmiths, butchers, weavers, basket-makers, etc. Today, the Manor House echoes the cultural and economic structure of the planter class, notwithstanding the architectural and construction skills of the Foy enslaved.
Because the home remained in the family through successive generations and only sold in 1971, the property also represents the beginning of the New South in the form of tenant farming as a "new condition" and the crueler aspects of white Jim Crow laws and the African American communities who forged ahead in education and economic freedom building their own schools and taking active roles in the Civil Rights movement within North Carolina.
Providing guided Manor House tours, demonstrations, exhibits, and community events, Poplar Grove Plantation seeks to bridge social ties in the region through its mission to promote conservation, education, and preservation.
Poplar Grove Foundation, Inc., strives to provide culturally rich and sustainable educational programs and exhibits that celebrates and cultivates mutual respect and understanding in a diverse and every-changing society. Come see us changing!