REPORT TO THE PORCHES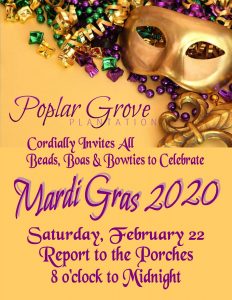 To celebrate Poplar Grove's 40th anniversary as a public historic site, we are borrowing from one of our favorite coastal cities, New Orleans!
In 2020, Mardi Gras is February 25, otherwise known as Fat Tuesday – the last day of the Carnival season, so we are calling all beads, boas & bowties to celebrate Mardi Gras 2020 southeastern North Carolina-style.  
On Saturday, February 22nd from 8-Midnight, like all of the French Quarter, report to the porches. Our porches will be no less decked than the Garden District. Why I do believe I hear the trolley chugga chugga chugga chugging down the line. do you hear it?  Well, come see how we dress up the big grand dame of a house carnival-style.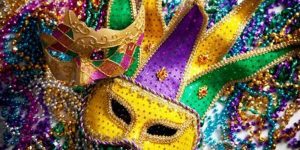 There will be signature cocktails, food trucks, a dj spinning tunes in the courtyard, a costume parade and prizes, so come dressed in your favorite outlandish golds, purples and green, feathers, boas, cuff-links and bowties.
$6 Signature Cocktail
$5 Red/White Wine
$4 NC Brew/Seltzer
$3 Domestic Beer
$2 Bottle of Water
$2 Buttery Nipple Shots
Are there are few bridesmaid dresses sitting in the back of your closet?  Pull 'em, out, deck 'em out, and we'll call you out with a big fat drink in one hand & a shot in the other!
This is a 21+ event. $5 cover.
Keep checking our website as this event draws near.