REPORT TO THE PORCHES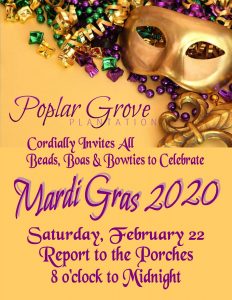 To celebrate Poplar Grove's 40th anniversary as a public historic site, we are borrowing from one of our favorite coastal cities, New Orleans, so we are calling all beads, boas & bowties to celebrate Unity in Diversity and Mardi Gras 2020 southeastern North Carolina-style.  
"This is how we do it!" On Saturday, February 22nd from 8-Midnight, like all of the French Quarter, report to the porches!  Yes, find the porch at the barn, which will be no less decked out than those porches in the Garden District. Come see how we dress up this big grand dame of a place au carnivale-style.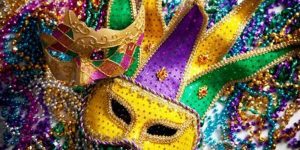 We will be serving NOLA-style Hurricanes as the signature cocktail and local brews Airlie Amber Ale & Kolsch Krush by Wrightsville Beach Brewery, and food trucks to include Poor Piggies BBQ and the T'Geaux Boys for a little taste of Cajun and Creole. A dj will be spinning tunes, and if we are loud enough a costume parade with a grand prize winner, so come dressed in your favorite outlandish golds, purples and green, feathers, boas, cuff-links and bowties.
If it's cold outside, we wear it well!  The barn is indoor & heated & a tent from L&L Party Rentals and patio heaters will keep your crew warm.
$7 Hurricane Signature Cocktail
$5 Red/White Wine
$5 Vodka Tonic/Vodka Soda
$4 Wrightsville Beach Brewery Beer/Hard Seltzer
$3 Domestic Beer
$2 Bottle of Water
$3 Buttery Nipple Shots
Are there are few bridesmaid dresses sitting in the back of your closet, or some other Saturday night soiree that required sequins or cufflinks? And if that ain't your thang, we ain't no snobs. Like all of the French Quarter, we welcome all creeds, colors, and outfits here…
So pull yourself off the couch, pull those duds out of your drawers and closets, deck'em out, and we'll call you out with a big fat drink in one hand & a shot in the other!
This is a 21+ event. $5 cover.
SPONSORS
Keep checking our website as this event draws near.