To celebrate Poplar Grove's 40th anniversary as a public historic site as well as LEAP YEAR, we are borrowing from one of our favorite coastal cities, New Orleans!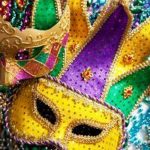 In 2020, Mardi Gras is February 25, otherwise known as Fat Tuesday – the last day of the Carnival season and sucking from the marrow of life's pleasures before Lent, or Ash Wednesday. 
On Saturday, February 22nd from 8-Midnight, like all of the French Quarter, we are decking the porches of Poplar Grove carnival-style.  There will be signature cocktails, food trucks, a dj spinning tunes in the courtyard, a costume parade and prizes, so come dressed in your favorite outlandish golds, purples and green, feathers, boas, cuff-links and bowties. 
This is a 21+ event.