Join us, along with your friends and neighbors, for one of our biggest throwdown events of the year, the Kentucky Derby… which has unfortunately been cancelled due to Covid-19 and NC's Phase 2 requirements which keep museums closed.
This is a low down & dirty shame and yes, please, high flutin' event – so dress way UP or dress as LOW DOWN as you want – either way be ready to throw down and enjoy the anticipation of the biggest horse race of the year!
There will be a High Flutin' Best Dressed Couple contest, a Low Down & Dirty Shame Couple contest, and of course – ladies, the bigger the hat, the more likely to win our Big Hat Best Hat contest. Winning prizes will be bottles of intoxicatingly delightful libations of the Woodford Reserve, Larceny and Maker's Mark variety. We will also have our very first Best Dressed Family contest, so throw open your closets!
In the spirit of the races and not to be outdone by their human friends, our barn-yard ambassadors in the four-legged and quack-quack variety will be exhibiting their best hats for our spectators to view, review & vote upon to raise money for the Stables.
And, of course, we will be broadcasting live coverage from Churchill Downs! For a quick preview of the leaderboard, click on the official Kentucky Derby website for a list of the 20 +5 contenders to run in the Derby.  Click here for Schedule of Events.
There will be food trucks on site to nourish your majestic appetite and concessions to tickle your tongue. Food Truck Vendors, click here for 2020 FOOD TRUCK GENERAL APPLICATION.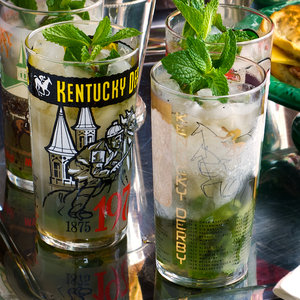 Naturally, this late afternoon event will also have a Beer & Wine Garden and signature Mint Juleps, so bring your cash to help us offset the costs of taking care of our rescue horses! 
$7 Mint Julep
$5 Red/White Wine
$4 NC Brew/Seltzer
$3 Domestic Beer
$2 Bottle of Water
$2 SoCo & Lime Shots
Folkstone Stringband will be playing hard hittin' bluegrass, along with a few sporting lawn games, and various raffles on the Turf Classic and Kentucky Derby to raise money for the Stables, so there's plenty to do for the young and young-at-heart.
Cover charge for this event is $5 for adults 21+. Bring your lawn chairs, BIG HATS, blankets & friends! No coolers, please.
Special thanks to  

Keep checking our website as this event draws near.