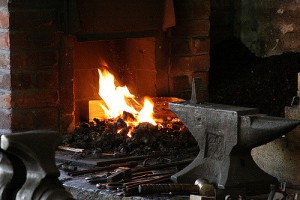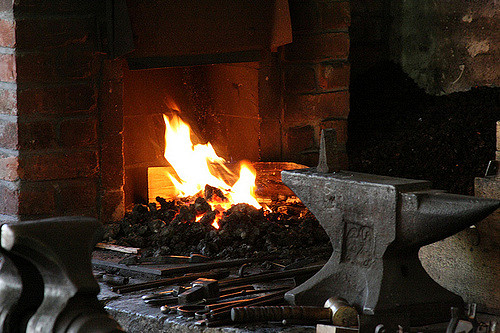 This beginner four-hour Blacksmith Workshop will cover the basics of using a coal-fired forge and operating a bellow. We will explore the processes of tapering, twisting, squaring, drawing out, and many others. The student will leave with a finished hook, fire rake, or fire poker. Also open to specific projects if feasible. 
Must register for course by emailing Autumn Day at amsh2324@yahoo.com. Cost is $125 and includes gloves, eye and ear protection, and materials. Four-hour workshops by appointment. Must wear long pants and closed-toed shoes. 
Studio hours and extra instruction are available upon request.
Meet Your Instructor: Autumn Day studied blacksmithing and metal working under Phillip Gaddy at UNC-Charlotte as an elective through the College of Architecture. She attended several blade smithing workshops at Tryon Arts and Crafts in Tryon, NC with Gery Drew.  After 16 years of blacksmithing, Autumn joined Poplar Grove in April of 2016 where she offers demonstrations and workshops.  See Star News and WECT for featured articles on Autumn Day.