Bringing history to life for students of all ages, Poplar Grove Plantation is delighted to announce that our educational programs meet competency goals for the NC Standard Course of Study.
Plantation Living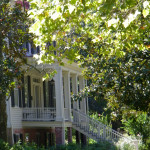 Explore the dynamics of a 19th century plantation and the lives of those who lived and worked here for over six generations. Roles discussed include the Foy family and pre-Civil War enslaved African-Americans (skilled  artisans, field hands, house servants).
Program 1 includes tour of the Manor House, plus two craft demonstrations and wagon ride.